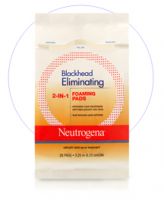 good

I don't really have oily skin or have a huge problem with breakouts but I still like these because they are so easy to use. My husband has worse skin and he likes them too, and says he has noticed a different in his acne.

two words...HELL NO

I was using this product RELIGIOUSY, every night before I went to bed, hoping and praying that it would do what it promises (getting rid of blackheads). And to my suprise it did exact thing I expected it to. At first, it stung my face a bit but I got used to it after a while. Then after a month I started to get REALLY flakey around my nose chin and forhead (where my blackheads appeared the most) a...read morend my skin became red. My skin started to get really crackly and I my whole face looked like a cracking volcano about to spew some face juice at your eye! for those with sensitive skin. please dont use this product. I know that i;m not labeled as a "TOP 100 REVIWER", but i dont need a label to tell you. DONT use this stuff

Very good

I really like this cleanser, it makes my very oily skin feel clean and healthy, not tight like some other acne fascial washes can do. I haven't noticed much of a difference in my blackheads yet, but i haven't been using it that long anyways, i'll continue to buy nonetheless.
Back
to top