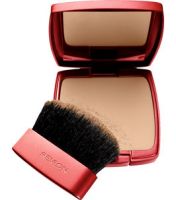 Awesome Packaging

I've loved having this compact in my purse. First and foremost the packaging has prevented the pressed powder from breaking for a very long time; I've been throwing this thing around in my purse now for about two years (yes, I know keeping it that long is a no-no) and its still solid as ever. I like the brush it comes with too, which I would never use for serious blending, but works great for a ...read morequick powder application. The mirror in the compact is also a great size, and I can't count how many times I've used it. I use this powder sparingly, but it always does exactly what I need it to, which is either set my foundation, or tamp down some unwanted shine. It smells like make-up in an inoffensive, non-scented way, and the texture of the powder is pleasingly smooth. A little bit seems to go a long way, and this one compact has lasted me forever. I'm a W3 in L'Oreal true match and the color of powder I have is 02 medium. I like it, and the color works well for me, but I suspect a shade lighter would have worked out just a touch better for me. One thing that I really appreciate about this product is that Revlon choose to keep sparkle and shimmer out of the formula. You can a super duper fine talc in the powder, but only if you look really closely. I think that once it's applied to the face it's pretty much "glitter free", but isn't so matte that it drains you of all of your ability to reflect light- which is to say that you could still look a rather 'luminous' even with a generous application of this powder. I would recommend this powder to my girlfriends.

So So

Not enough coverage for me, but still enough to look polished.

don't like the brush

I really like the powder, but I don't like the stiff brush.
Back
to top