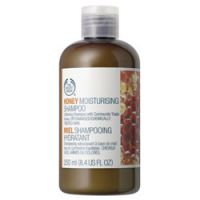 Great shampoo

When I first tried this I thought I had grabbed the wrong bottle and was using the conditioner. The shampoo doesn't suds up because they don't include chemical sudsing agents like SLS and the actual shampoo is very thick and creamy and looks like typical conditioners instead of a clear shampoo. It still worked really well on my air that had treated roughly all weekend from styling and chlorine f...read morerom swimming. I took all the product out of my hair and left it smelling wonderful. It's not the cheapest shampoo, so that kind of limits how often I get it, but when I do it is the best treat for my hair.

strange shampoo

This shampoo is thick and low sudsing. I bought the sample and hated it everytime I used it. However it was recommended to me buy a trusted friend, so I stuck with it, the smell... well I think could be better. Ok having said all that, I added water to the bottle and found it easier much easier to apply. And every time I used this shampoo and matching conditioner had the best hair day ever! My ...read morehair was soft, but not blah soft, but full of body, and shiny the color was vibrant. I simply loved it! So, I will definitely will purchase again and water it down a tad from the beginning!

Good for damaged hair

After dying my hair often, I started to miss its previous sleekness and good condition. A friend recommended this shampoo. It's quite affordable and smells great. My hair really did get a lot less damaged, though I recommend using it alongside hair masks to achieve sleek, shiny hair. But good overall!
Back
to top