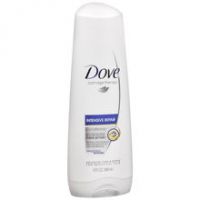 Damage Therapy

I had pretty damaged hair when I used this, and really, all this conditioner does is coat your hair with tons of silicone(Dimethicone), rather than actually helping condition. It has a wonderful scent, but it doesn't provide any true conditioning..it only covers up the problem.

Soft, Shiny, and Frizz-Free

The product was quite a bit thinner than I anticipated but the end result was pretty noteworthy.For such a reasonable price, I had soft, shiny, and frizz-free hair. When used in conjunction with the Intensive Repair Damage Therapy Shampoo, this fragrant, thin conditioner did the job.

Wanna touch my hair?

I bought this in the ginormous bottle at Costco and I LOVE IT! I've never given Dove much thought when it comes to hair care, but this is fantastic! Leave's my hair feeling soft, clean, smelling good and smooth! Everytime I use this, I always have people tell me how beautiful my hair looks and close friends & coworkers touch my hair. It's kinda funny, but I love it! It smells fab!
Back
to top