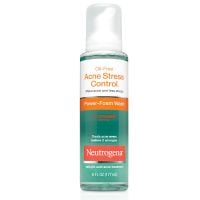 Editor's Rating & Review
Salicylic acid is the key to unclogging pores, but it takes the right strength to get the job done. Does this wash deliver? At .5 percent, not exactly. Those spots won't vanish overnight but the soothing green tea and cucumber extract offer a refreshing morning wash for dry and normal skin. The lack of residue keeps T-zones fresh, too.
Reviewed by the Total Beauty editorial team on 09/25/2007

How we review products
drying

this foaming cleanser wasn't strong enough for my mild acne and it dried out my skin, as many foaming cleansers do. I recommend to those that like a soothing tingling feel when they wash their face. the experience was always refreshing.

Did not work for the second time around

I used to use this face wash to prevent/heal acne when I was a teen. It worked pretty good back then (FYI, I also used several other acne prevention products at the same time together with this power-foam wash). When I was a late-20s, I tried this again for my adult acne problem. I used it morning and night. The pump produced a good amount of foam, it gave me a cooling and tingly sensation, and my...read more face felt cleaned without any irritation or over-dryness (but a good moisturizer is a must afterward). Unfortunately, I did not see an improvement on my pimples or breakouts.

Exclusively from the editors at Total Beauty

Get the Buying Guide to see these top-rated products!

Get it now »

Foamy Cleanser

This is a great cleanser for your skin because it lathers up so well. I love that it is made with cucumber and green tea, for a soft and sweet scent. This wash helps control pimples and makes your skin feel clean.
Back
to top