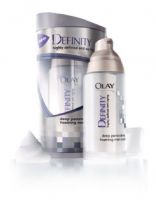 Leaves you glowing

This is a great moisturizer if you have combo or normal skin, and probably even sensitive. I have dry skin and it works fantastic for me in the summer, but isn't quite enough moisture in the winter. I have noticed that it helps to make my freckles less noticeable when I'm using it - whether that effect is long term or not or whether they are actually fading, I'm on the fence still. I like the f...read moreoam now but didn't at first. The texture was hard for me to get used to and the right amount was tricky as well. I use this on my décolletage and I've noticed a great improvement in the condition of my skin there as well. Bravo Olay for the genius behind this product.

One of the necessary products for great skin!!

This foaming moisturizer is ideal for my skin. It goes on very light, but in a good way....you feel it penetrating your skin and drenching it with moisture. It does not "sit" on your skin as typical thick moisturizers do. This is amazing. There is nothing else to say.

LOVE This Product

This product is really amazing. It does exactly what it says on the bottle, unless your dark spots are too dark. However, i think this product has been discontinued, the foam comes out to fast and I ended up going through a thirty dollar bottle in a month. If you dont mind spending money and can find this product it is so worth it.
Back
to top