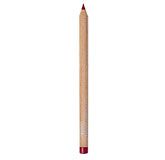 Aveda Lip Liner
Not so great.

I like to wear lip liner to show off the shape of my lips and sometimes I like to use it to hide the darker color on my upper lip. This lip liner lines my lips but does not blend well with the lipstick. It bleads in the lip gloss but changes the color of the lip gloss to the liner color. Plus if you use it on a dry lip it may crumble. I only tried it with Aveda products and tried it because it is made by Aveda.

No lined lip!

I feel like I waste half the pencil trying to line my lip - which I do like the entire thing lines. If it isn't breaking off then it just doesn't seem to want to fill in on one spot or another. I find pencils for half the price do more of the job I want. The colors of this pencil are great, however!

Come on Aveda... work it out. You can do better.

So I LOVE my lip color and LOVE the feeling of the pencil on my lip. I am one of those girls that wear's lip liner on my entire lip so this is important. It says on FOREVER. But I DO NOT LOVE that whenever I go to put it on my lips and they are not moist enough, the lip pencil crumbles on my lips. When this happens, and it's often, it's messy and not to mention pricey (these penc...read moreils are not cheap). So what you have got here is a true LOVE HATE relationship. When it's good it's great. But, when it's bad it's really bad and super messy.
Back
to top