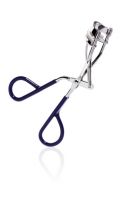 Crimps instead of curls

This lash curler requires a very, very delicate touch, and even then it leaves an unsightly kink in my lashes (I curl my lashes before applying mascara, btw). I have to do a lot of manuevering to ensure a decent curl: applying it all up and down the lash, only to the tips and then waiting, etc. Not worth it.

Okay product

I got this product a little while ago and at first I loved it. I love the way it is shaped and that it is not too big and bulky, and is very easy to carry around in a purse. I like how the handles are covered with the rubber material making it look so much better and feel nice and soft and warm. The actual curler works really well. It does its job of curling the lashes. The only downfall for me is...read more that the rubber part in the curler where I put in my lashes, does not reach the very tips. So when I curl my lashes, the last few corner lashes do not get curled and stick out at an awkward angle. I have to keep moving the rubber thing from one side to the other every time I curl my lashes. This did not bug me for a while but now it is getting annoying. My cousin used this curler when she came over but it did not seem to have the same problem on her. I guess that I just have longer eyes and so this does not really work for me. Other than that, I do recommend this product for those who have small eyes and are looking for a cheaper, drugstore eyelash curler. Those who have longer eyes, or almond shaped eyes, might want to look for a product that has the rubber part of the curler covering the whole length of the curler.

Best I Have Found In Years

I have been curling my eyelashes for over 40 years. First of all, when you curl, start at the base and gently squeeze but not all the way down. Then gradually move out towards the ends and gently squeeze as you go. This give you a curl not a crimp. I am giving this curler 10 stars because of the pad. Lately, all the curlers I've seen have a pad that is too soft and spongy. In no time flat, it deve...read morelops a slit in it which will break your lashes. I go through them in about 2 weeks. I found this Covergirl curler, and to my surprise it has a totally different and firmer pad. More like the ones they used to make. The curler works smoothly and beautifully. It's not bulkly like some of the plastic ones so I can see what I'm doing. The only draw back is that Covergirl does not make the refills. So you have to buy another curler. This is unacceptable in my opinion. And if the only pads I will be able to find in the future are the spongy ones then I am out of luck. I will NOT buy the spongy pads again.
Back
to top