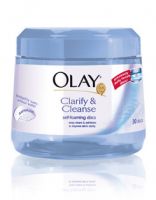 Agree with other reviewers - Good Stuff

I am also no spring chicken and was very pleased with this product; coupled with the fact that you can purchase it almost anywhere is a big plus.

Love it but can't find it anymore

I absolutely love this product, but can't find it anywhere anymore.....even online. If anyone knows where I can get it, please let me know!! :)

Fantastic!

This product is truly incredible! It is so easy, quick and does a great job! I have noticed a big difference in my complexion since I have started using this product. However, I am having a hard time finding it in stores lately!
Back
to top