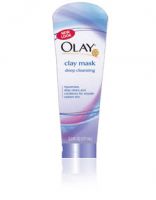 Very nice

I used to use this regularly and I loved it. The only reason I didn't buy it again was because I couldn't find it. Now that I look at the age of some of the other reviews, maybe they don't make this anymore? It's a shame because it did work very well for a good deep cleanse.

Olay Clarify & Cleanse Intensive Deep Cleansing Clay Mask

Why was it discontinued? This was one of your best product! I cannot find anything as effective as this product. Please consider bringing it back as exactly as it was. I know many friends who would buy it. We are waiting!!! Please!!!

Like it

I love clay masks because they really suck the gunk out! This one takes a bit of elbow grease to rinse off after drying, but using just once a week, makes my skin feel smooth and clear.
Back
to top