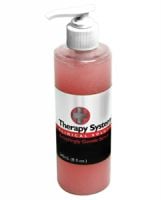 Editor's Rating & Review
Therapy Systems Amazingly Gentle Scrub leaves skin clean and refreshed, but the liquid-gel formula's walnut shell powder and large jojoba beads may not feel as "amazingly gentle" as one might expect. Natural product lovers will be turned off by SLS and multiple parabens but such typically drying ingredients don't seem to work against moisturizing hyaluronic acid and aloe vera. Bottom line: If it's in your price range (and you like the Tang-like scent), it's worth a try. Even if you don't end up using it daily on your face (I didn't but others do), it makes a great "off"-day hand wash.
Reviewed by Charli on 10/27/2008

How we review products
Do not pass up!!!!

The Therapy Systems Amazingly Gentle scrub made my skin soo soft, not only that but I have really dry skin on my arms and now i can show my arms off!! something I could not do before! try it totally!!

Love This Scrub!

I use this everyday, I have to say this is the best scrub I have found out there!

This lives up to tits claims!

This gentle scrub not only smells of grapefruit, but gives a very gentle and effective scrub to my face. I don't like harsh scrubs, and so this one is just perfect for me. Excellent value also.
Back
to top