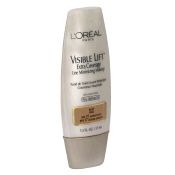 Great at any price!

I have been using this product for about 5 years. I have tried many other brands at all price ranges and keep coming back to this. It has great coverage and matches well with my skin tone. Feels great on and lasts well thru the day.

works great

Lives up to the name. Got a lot of compliments on my "great skin" even though it isn't.

wonderful formula

I was divorced and had to switch from pricey brands of $30 and up. to a less expensive brand. This foundation performs as well or better than the higher priced ones. It is non-clogging of pores, goes on smooth, comes in good shades, and has great coverage. try it! and save $ too.