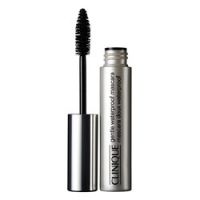 Mixed feelings

I thought that Clinique Gentle Waterproof Mascara worked well first. However, after only 3-4 times I used it, it looked empty already because the inside looked a bit dried out (I closed the cap tight enough). When I pulled out the applicator, some lumpy flaky stuff were all over. Not my favorite mascara.

Great for natural looking eyelashes

Okay, so I've tried Dior Waterproof and it smudges, but it makes my lashes really long and defined. I'm blonde/redhead and my lashes are really long, but REALLY light. So, this darkens them up so it looks really nice and natural. For defining and lengthening it sucks, but for natural looking lashes, it ROCKS!

Works great for me!

Although this doesn't define the lashes very well it is a great waterproof mascara. I just "layer" it with another brand of waterproof and put this on top. It clings to the other brand and makes it very easy to remove. I tried all kinds and this works best. No more pulling or rubbing at my lashes to remove the mascara. Comes off so easily. LOVE IT!
Back
to top