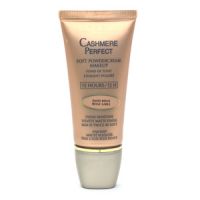 Review subject

not for me defenitely. my friend presented it to me, and i'm happy i hadn't spent money on it. when being applyed it just woudn't cover the skin in the right way. it didn't make my complexion even and immediately felt heavy on the face. and after several hours it all became caky and made my pores look two times bigger. maybe it's ok for dry skin,but for me it didn't work

First bought on sale - will continue to purchase

Bought this on sale and found that I love it! Lives up to it's name....feels like cashmere on the skin...soft and silky. Usually don't like a powdercreme makeup because my skin tends to be drier, but this feels and looks so natural. I am in or around the water at least 10 hours a day and this foundation looks as good at the end of my day as it does in the beginning. Will definitely keep using it!!

Not the Best

This product clogged my pores, so if you're prone to breakouts, I recommned you try something else.