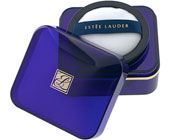 A Delicate, Lightweight, Beautiful Powder

Women have to be careful with setting powders. We all have a tendency to want to keep our carefully-applied makeup in place and prevent a shiny break-through, but less is always more. Powder tends to cling to fine lines and creases, most especially around the delicate eye area. This doesn't seem to be much of a problem with Estee Lauder's "Lucidity Translucent Loose Powder." It is available in...read more "translucent" as well as several lovely shades. This is a talc-free product, and it does not contain mica or cornstarch. It is extremely lightweight on skin. Many makeup artists are now recommending putting down the makeup brush--no matter how well-made--and using a sponge or powder puff. Brushes may actually remove the powder, as well as the foundation and other cosmetics underneath. They suggest using dipping the sponge in powder, dusting off excess, and employing a "rolling" motion against skin. This way, powder makes its way into pores and stays put for a longer time. However you choose to use this, it is a great powder. I know the trend is to use it over concealer under eyes, but I was drilled in modeling school and on the runway never to put powder around my eyes. Just use a great concealer and a brush if necessary. Keep the powder for the rest of your face!

Great for touch ups!

I alway use it to blot without caking it on. I use the translucent powder. Looks very natural. Doesn't settle into fine lines or pores!

itchy

This powder and it's foundation recieved excellent reviews and was bragged on endlessly by the sales clerk (which is sometimes a warning sign) and on this forum. I did not like this powder at all! It made my skin itch and turn red. I don't know if was the glowing properties or just the make up as a whole but I could not use it.
Back
to top