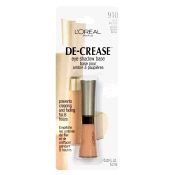 Good Basic Eye Primer/Blemish Concealer

Years ago I used Ultima II's "Fade Not Crease Not" and L'Oreal's "De-Crease" to keep shadow in place. This was before all the talk was about UD's "Primer Potion" and Too Faced's "Shadow Insurance." Now there isn't a primer I haven't tried, and I still like L'Oreal's version. It is not transparent but comes in a flesh-toned shade. That works well for me, as it immediately covers some small blue...read more veins on my lids. It can be a tad thick, but when spread evenly, it holds any type of shadow in place for ten hours at the least and eighteen hours at the most. It doesn't crease on me and makes me happy. I also use it on blemishes. I never touch the doe-foot applicator to a blemish for fear of contamination but use a Q-tip. Once it sets, I use concealer on top and my problem remains disguised until I cleanse my face.

Not Any Good...

Don't waste your money on the L'Oreal De-Crease Eye Shadow Primer. It actually does crease on your eyelids, takes for ever to dry, and really doesn't help my eye makeup stay on any longer. I believe that everyone should use a good eye primer to help keep your shadow on and it keep the colors vibrant! Just pick a different one. You don't want a primer that creases because then your shadow will crease as well and that is definitely not a good look! =)

It's okay...

This is my first eyeshadow primer so I really don't have anything to compare it to. I agree with some of the other reviewers. It did make my eyeshadow more intense, but ironically, the decreaser can crease! That's before the shadow is even on. I just reblend it and add some powder to set, then apply my eyeshadow. It's not bad though. When I couple it with a higher end shadow, I can usually get thr...read moreough the day without creases, but with a lower end brand, Cover Girl in particular, I almost always crease halfway through the day. I also think its a bit pricey. I believe I paid around $10 at Walmart for not much product. I'm going to try to find one that works better and costs less. Wish me luck!
Back
to top