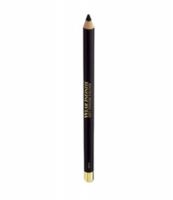 Waterproof ONLY

This is a mediocre quality eyeliner but I do find,however, that if I blink to hard when I sneeze or workout and sweat that I end up with racoon eyes. Also, the eyeliner can harden at times and it will pull and tug the eyes which isn't a good feature because the skin around the eyes is very prone to premature wrinkling due to overtugging and pulling. A tip to using this is rubbing it around the i...read morenside of the wrists to warm up the kohl and then applying it to the eyes to reduce the hardness and letting heat penetrate the formula to soften it a bit. Oiliness can also cause this product to smear so if you have oily skin, this product may not be for you.

In love

First off, I'm not a big eyelinger girl but this one has the best of both worlds. I get defined eyes without looking like a raccoon. It lasts a fairly decent amount of time and is mostly waterproof unless you rub your eyes. Will definitely be repurchasing!! <3

Gold eyeliner = Pretty Good

I purchased this eyeliner in gold because I had wanted a gold eyeliner for a while and I was greatly suprised that it stayed on for about 8 hours. The color is totally fabulous when you first put it on but the color quality does decreases. I'm not sure about the the other colors, but this smudges very little or does not smudge at all, especially if you use an eye primer with it, if you are using it on your top lid.
Back
to top