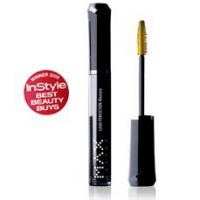 For Length Lovers

My favorite thing about this mascara is the brush. It totally eliminates clumps so it's very buildable and the brush is precise enough for me to use on my barely-there bottom lashes without any messy smudges or clumps. I actually saved the brush and cleaned it so I can use it with different brands. The formula itself is alright & it doesn't smudge, flake, or feel heavy, but I definitely favor othe...read morers more. I have naturally long, curly lashes but hardly any volume so when I look for a keeper in mascaras, I demand tons of volume. This didn't really deliver on that note; there is definitely some added volume, but it looks too natural for me. Lengthening power however, is another story. This mascara probably adds the most length of any mascara I have ever tried. Granted, I have very long lashes, but when I was using this, my lashes could reach to the top of my brows if I curled my lashes and would bat up against my glasses (yes, really) so if you need some (or lots of) length you need this.

Max Factor

Works great without the extra cost.

Loved it!

I loved this mascara because it really separates without being clumpy. However, I found that the formula can be a little dry compared to Covergirl's Lash Blast. I have repurchased about 6 tubes of this before my sister-in-law gave me Lash Blast. Now, I can't seem to get myself back to using Lash Perfection.
Back
to top