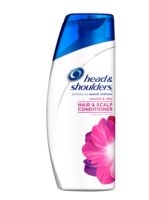 healthy scalp and smooth hair

i did see a difference in my scalp and hair. i used this shampoo along with the dove intense therapy shampoos. my hair was less frizzy and more manageable and softer. my scalp was also a lot less itchy. this product is great because it not only hydrates scalp, but it keeps frizz low.

Another great H&S conditioner

This conditioner works against my husband's dandruff, and restores the moisture that the matching shampoo washed away. I can see that it makes his frizzly fluffy hair soft and more manageable, but maybe not completely smooth and silky (well, he has very stubborn hair). But the most problematic part of his hair, his dandruff, is clearly taken care of by this H&S line!

Solid Drugstore Conditioner

This was really good for a drugstore conditioner. It detangled hair, and left it noticeably smoother. The smell was just on the verge of being too much for me.