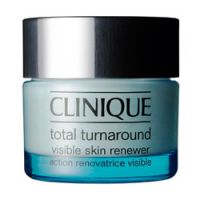 Have acne? Maybe not the right time to use this product

It did made my skin smoother and softer, but not permanently. I stopped using it one day, and my problem with pimples got better. This moisturizer may have something that my pimples enjoy absorbing....;) I may buy it again during cold and dry winter, when I don't suffer from acne and if it was a bit less expensive.

Use this if you want people to tell you how gorgeous your skin is!

While I'm not terribly fond of the pump version of this [for oilier skin I'm guessing?] the cream is absolutely divine. I am a product junky when it comes to skin care because I want to have beautiful skin for as long as possible..well obviously, haha. Anyhow, needless to say I have tried numerous numerous numerous creams and serums and potions and this and that, and I keep coming back to this. I ...read moredon't know why I don't just buy a whole case of it! The results are immediate and amazing. When I use this I definitely don't feel like I have to use a different product for every different skin woe I have as I feel it addresses all of them... dullness, fine lines, blemishes, unevenness... it literally does it all and it does it well! I recently started using it again [why I stopped in the first place I cannot imagine!] but I don't intend on ever being without it again, because every time I get a new jar I can't think of a time my skin ever looks better. Love love love love love!

Awesome skin renewer

I love this stuff. I noticed pretty immediate results when I started using this product. I wanted something to help with smoothing my face around my eyes and on my forehead of fine lines. My skin is looking and feeling much smoother and younger. I have used other Clinique products, but this one is one of my favorites.
Back
to top