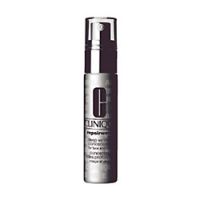 Good Product at Reasonable Price

I've used this twice a day for about six months and it's now become my staple. And I've tried about 20 different serums in all price ranges. At night I follow this with Clinique Super Rescue antioxidant night moisturizer. I am 58 with normal to dry skin. I wouldn't advise the night rescue moisturizer for those with oily skin, however.

I can smile again

Noticing my laugh lines and crow's feet at 43 yrs. old I discovered this product. Using it 2x's a day like the directions state it works. My skin around my eyes look and feel smoother, and not tight like other products I've tried (alot of others) My forehead lines are diminished and laugh lines are less noticeable. I only wear a light dusting of pur minerals on my T-zone to look balanced and keep my blush even. Use it for 21 days and it will deliver what it states.

Did nothing for me.

It supposed to boost collagen production, but I never noticed that. When I put it underneath my eyes I seemed to get more wrinkles than I ever had before. It does not smooth out anything and my face looked worse then before. Sometimes I think Clinique comes out with these new products to charge us up the ying yang. But it is not necessarily better. NOOO I will stick to my anti-gravity cream.
Back
to top