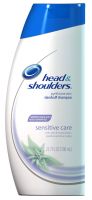 OMG IT WORKED! AND DIDN"T HURT MY COLOR!!

When I started having my color done at a salon, I stopped using the dandruff shampoo I was using. Well the flakes are really bothersome, so I was digging through my husband's and son's bathroom cabinet and found a bottle of this for sensitive scalp, and it read SAFE for color treated hair!!!! I was sold on that. So I washed my hair, the shampoo was thick and creamy, the scent was wonderful and fre...read moresh, the suds were plenty, I applied my usual conditioner and when I towel dried my hair no flakes and the real test was brushing and blow drying, but still no flakes!! I am sold on this and to think I've been avoiding this brand for years!

I dont have dandruff but I still use it!

My Dad and Brother have dandruff and so use this shampoo but I have slightly oily hair which I like to wash every day and this shampoo has proven to be a gentle, cleansing, pleasant-smelling, softening product which although fairly expensive, is a high quality shampoo- when using Head and Shoulders I do not need to condition.

undefined

I get a lot of dandruff from any shampoo and this one is the only one that has helped me so far because it does not dry my scalp. The only thing is that the conditioner was not so helpful because it gave more dandruff so use the head and shoulders silky smooth conditioner and it works out great.
Back
to top