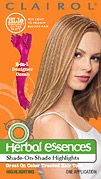 Lovely 'Lights

The applicator brings uneven segments of color, sometimes leaving the roots appearing splattered on by a different dye but if you take strands by your fingers and deposit the product by applying it yourself and soaking the strands in tiny locks with a centimeter or half in between, it comes out looking nicely. The applicator seems to deliver good application only by chance so I suggest tossing it...read more out and doing hair yourself as previously mentioned. The dye comes out prominently so there is dimension in the hair and the end result is usually pleasing if you don't go too light from your original hair color. If you have black or dark brown hair and try for blonde highlights, they may end up just looking coppery or brassy so stick within two or three shades of your current hair color. I love doing my hair in layers with this and it gives the appearance of looking fuller and adding volume to the hair if you put it in the right places.

didn't like this applicator!

Very hard to apply. This is not an easy way to apply highlights. I really was disappointed with the applicator!

not yet tried

I got this product and I am worried I won't be able to uuse it. I do like that the results aren't too dramatic!