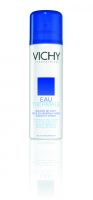 Quick Refresher

This mist works exactly like Evian Skin Moisturizer. I used to bring one of these on long-haul flights when it was allowed. Today I use it when I spend hours in dry and hot climates. It is an instant refresher, and unlike just water, one quick spray of this mist does not mess up my makeup. I can use it when my face feels dry, and also oily because it does not only hydrates my skin but also is a go...read moreod way to eliminate oil and sweat off from my face. You can use after or in the middle of playing any outdoor sports. The Evian one became a bit more expensive and harder to find for me than this Vichy Thermal Spa Water. I know this is an unnecessary luxury, but if you get it, I know you will find it very useful and one bottle lasts a long time.

makeup artist staple!

I agree that spending money on an aerosol can of water sounds a little ridiculous! But I truly think the Vichy is different because it's volcanic water-- which has been clinically proven to have a cumulative effect on the skin. All of their products contain real vichy water from the source and I think that's the key difference here versus just spraying tap water or an Evian mist for instance. I...read more enjoy it for setting makeup and for toning my skin when it's too dry for my usual toner. Sometimes, toner can feel tight on my skin depending on how my skin decides to act on any given day. This little can is a staple of many pro makeup artists.

Kind of pointless

Expensive water in an aerosol can... nothing special at all. I don't know why I have this actually. It doesn't do anything amazing and I kind of don't get the point. It might be good for the type of person who goes camping, to the beach a lot, or for the summertime, but I don't really think it's any sort of miracle.
Back
to top