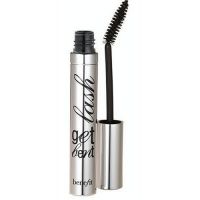 Editor's Rating & Review
Benefit's Get Bent Lash mascara does <em>almost</em> everything it claims to do. The angled brush lifts and curls stick-straight lashes well enough that a lash curler isn't necessary. The formula lengthens well and gives lashes a deep black color. But there's one huge problem: clumping. You'll wind up with huge globs of product all over lashes if you don't carefully scrape excess product off the brush before applying -- and even then, you'll still need a lash comb to separate.
Reviewed by Sarah on 04/01/2008

How we review products
Keep the brush

I liked the idea of this, when it first came out. However, it just simply didn't work for the price. I just don't like the brush and the mascara was very flaky, with way too much product on the wand. I think that they should re-try formulating and bring it back. I kept my wand!

it's okay...

The first time i bought this mascara i loved it! i felt like my lashes were super long and it didn't look like i was wearing much mascara. when i bought the product again..my thoughts began to change. not a fan of having to brush off the excess before putting on the mascara. I'd prefer a tube that had a little stop to help curb excess product coming out. I probably wouldn't buy it myself again, but I would use it if someone bought it for me HAHA

A new favorite

Love it--easy to get the underside of your lashes, curls them up better than some specialty formulas. Formula does thicken quicker than others if it sits too long.
Back
to top