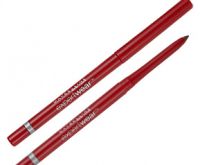 Classic for Brow Touch-Ups

I remember my mom using these pencils when I was just a young girl. I always keep them around. The formula is not soft enough for me to line my eyes (I would have to do some forbidden pulling and tugging on very delicate tissue here), but they do work quite nicely to fill in sparse brow areas. No matter what brow product I use, I have one of these pencils in my vanity and another in my purse. ...read moreThey offer a wide range of shades (unfortunately, "Auburn" was perfect for me and has been discontinued). The end effect is quite and surprisingly natural, all with little effort!

Brow and Eye Pencils

I usually use a powder, but thought I would try this. With a light touch, my brows looked pretty natural. Blends well with eyebrow brush. Eye pencil is not soft enough and does not blend.

Makes a Better Brow Liner

I do not like these as eye liners. They tug and don't go on smoothly. They DO make great brow liners. The consistency works great with small strokes to help create great eyebrows! Maybelline needs to market this as a brow liner only...If it was, I would give a 9.
Back
to top