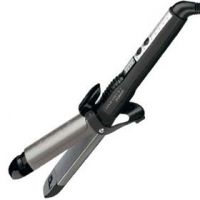 great concept but wait for the next model to come out

let the company work out some flaws. It's an amazing concept and with a careful and you can do amazing things that ordinary straighteners or just barels irons alone could not do. its dificult to get get a tight straight pull on the hair when straightening -but if just used for smoothing out it works great. not ideal for just straightening hair pin straight. i swear by this brand though. I have t...read moreried high end irons and numerous cheap drugstore ones. conair seems to be the one that is built to last. The fancy ones at the cosmetology stores seems to have only a three year life span -but every conair I have purchased to date still performs as good as it did when first purchased. and some conairs i have are over 10 years old!

not bad....

this 2 in one curler and straightener will take a bit of time to get used to, but doesn't burn you like other 2-1's. I would buy a curler and a straightener SEPARATELY instead, though, it's much better, though this isnt TOO bad.

Excellent product for the money!!!

My daughters and I use this daily and we all LOVE it. It is well worth the small amount it costs. I would buy it again.
Back
to top