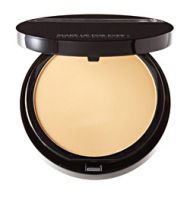 Awesome Powder Foundation

I've always loved powder foundations because they are quick and easy. This is just perfect. I apply with Guerlain Meteorites Brush. Just a light swipe over the powder for each section of my face. I have some redness on cheeks and this evens out my skin tone flawlessly with only a light coverage. I don't have to pack it on, although the coverage is buildable. I have dry and dehydrated skin so...read more I use creamy moisturizer and sunblock and did not have a problem with this powder getting cakey. It's a dry look when first applied but once it has settled and blended with the creams and oils on my skin it looks like your own natural skin but flawless! It's long lasting and oil free, but not oil controlling. I have a light complexion and usually use the second light shade in powders and foundations. I use Ivory-201 the third lightest shade and it's a perfect match; the color blended in perfectly.

Not What I Hoped It Would Be

When I purchased this foundation I thought it would be good for my oily skin. While it did provide coverage it wasnt the same as a liquid foundation or concealer. What most disappointed me was the fact that it did little to nothing for oil control. Touch ups can lead to extreme cakiness and streaking. The sales associate told me that this was a good powder to use over foundation to control oil. I ...read morecan attest to the fact that it is NOT. This led to even more cakiness and darkening of the colour once the skin oils broke through. Probably would work on normal skin or skin that has little problems with oil. But oily skin beware.

Airy Touch, Particles Galore

This foundation is highly compared to MAC Studio Fix Powder. While it is air soft to the touch, it can be messy when used with a powder brush because the particles are so finely milled; therefore, it may get on your clothing. This is long lasting but it may also be a bit much when over applied which isn't hard to do since even a powder brush can pick up so much product. The case isn't very impr...read moreessive, the high gloss finish makes it hard to keep it looking new because of the fingerprints that adhere to the surface and any trace of dirt dulls the finish. It comes with a latex sponge applicator but I find that this will apply it unevenly or too richly that the face will form a mask when used to apply. To avoid this, simply pat the latex gently onto the surface of the pan and pat the face around, applying a sheer laying of powder and without refilling the sponge, buff it onto the face to smooth out the texture. I believe the price for this is a bit steep because I found that this powder will not last as long as the foundation formulas because many particles stray away from it when used and also because it's a foundation that begins as a sheer finish to a buildable matte full coverage but mind you, too much of this product will thicken with oils after a few hours so a blot powder will be highly recommended or a blot film. The colors are a bit odd, I find that they do oxidize quite a bit because I bought a color that was quite light on my skin and after setting past an hour, it blended perfectly into my skin. Typically, many foundations do oxidize but I found this has shifted colors drastically compared to others I've tried. This isn't skin irritating like the Studio Fix powder as some people claim. Overall, it's a decent keeper.