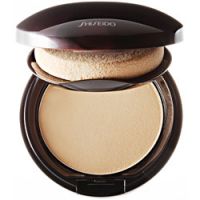 'LOVE IT

This compact definition delivers an airbrushed yet natural, non-streaky finish. The only flaw is that this line is limited in colors depending on the product but the finishes are natural and they are more commonly yellow based unless you purchase from the beige lined. This is the definite plus for my skintone and I love that you can dip a brush in water to just dampen, not wet, but dampen the br...read moreush or latex sponge and use this on the face to balance out and even the texture. It goes on beautifully! I will advise though, that some people with oily skin will see some shine and this can easily be remedied with a blot film on the skin and it keeps the makeup looking fresh. The texture when used dry though can be a bit hard but when applied, it's sheer. It's got more coverage when activated with water.

Worked for me!

It made my skin look and feel so smooth! Made my skin very white though but I prefer whiter skin so this was definitely the product for me! It works like a concealer covered up all my pimples and dark circles plus some of my light wrinkles. My skin was flawless after application!

Best I've tired so far....

Lovely product! I've been looking for a compact foundation and this is it! I find liquids don't seem to have staying power. THIS, however, ticks all the right boxes. It is easy to apply, never chalky, creates a lovely matte effect, no fragrance, brilliant packaging (the sponge never contacts the product, and you get a mirror to boot!) AND in a convenient, impossible to spill format. I used to use...read more a liquid, then apply loose powder to "set" it. With this, I have happily ditched my loose powder, as it is no longer needed, and now am saving money to boot! Only one teeny drawback. Not quite enough shades available. Luckily I got a good match for my skintone.