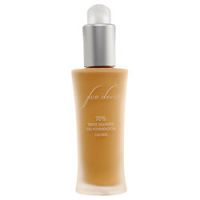 Wonderful foundation

This is just amazing for a liquid foundation. The best I've come across. The texture is heavenly and blends right in to your skin. The coverage is medium and buildable so that is a definite plus. Whether it has any benefits, I couldn't say, but it does it's job at a performing foundation. Worth the money, and the shades are diverse.

Love this in Tirari Desert

I bought it because it was on sale at Macy's...I figured i'll try it since it is very hard for me to find perfect foundation ;as I am very dark skinned. The Tirari Desert was beautiful on my skin, and it does not break me out. It could get a lil oily, in that case, i recommend using face powder after applying to set it. Or primer before ( though i do not like primers)

Doesn't have great lasting power

It has decent coverage but by the end of the day, my face is pretty shiny.