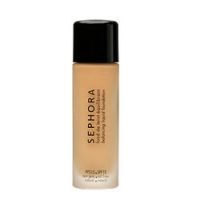 Not Impressed

I tried this after the girl at Sephora applied it on me and I stepped out into day light and it looked good. Too bad when I applied it myself it was a lot lighter than I thought it was! It didn't cover my acne scars and it wore off very quickly. I didn't like it and promptly returned it. I didn't look or feel like I was wearing makeup at all, and not in a good way.

Good product, good price.

I like this foundation because it really covers up redness and blemishes on my whole face evenly and there's no craking or flaking like other cheap foundations. Also it lasts until washed off. I also like that it has 15 spf, a good number for every day wear. This is especially good for the winter when you need some spf, but not an extreme amount. However, it is a little thick for everyday wear, i ...read moretry to use it on special occasions like when i go on a date or to an event where i know lots of pictures will be taken. A trick to thin it out is to mix it with some moisturiser (half and half) on your hand before applying. I like it but its not practical for everyday use, which is why i use it. I don't like to wear foundation every day. Also, its oil free so its good for acne prone skin.

good

I thought this product was "good".Stayed on ok, Not what I expected.