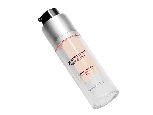 Pretty good!

i got a sample of her spackle along with this foundation. I really like it, but my oily t zone prevents me from loving it. It's my #2, next to EL.

Not phenomenal but pretty good

I am a fan of Ms. Geller's products so I am pleased that I purchased -- and liked -- this foundation. It goes on easily, blends well, and provides very good coverage. It lasts all day and is lightweight. My only suggestion would be to offer more color choices for all the different skin tones out there.

So Far So Good

Ok, I admit it; I'm a fair weather foundation nut. I'm always in search of the Next Best Thing and so far this has been it. I love the all-in-one attached top. The coverage is good without being heavy and the color stays true most of the day.