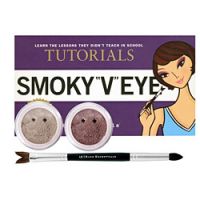 Brush not so good

I'm not a fan of Bare Minerals foundation, but their eye makeup is pretty good. The colors in this kit are very nice, especially the base color (Pacific Heights). However, I never really got the hang of the v-brush. It's such a cute little concept, but for people with smaller Asian eyes like myself, it's a bit harder to manuever and just doesn't create the same effect because not everyone's crease...read more space is the same size. Thumbs down for the brush, but at least the colors are nice. I guess I'll have to learn that smokey eye on my own!

Nice shadow colors, but the brush doesn't work well

I bought this set for my mom for Christmas, and was very excited to try it out on her. We both ended up being disappointed in the v-shaped brush--it just did not acheive the effect it promised. I tried to follow the directions as printed, but the v-brush just didn't work the way it was supposed to. It was hard to avoid getting shadow on the whole surface of the brush (thus ruining the two-prong...read moreed effect) since the bristles were CUT into a 'v' shape rather than being two separate clumps of long strands. It was also hard to maneuver the brush to bring the points together at the outer corner of the eye. It would have been easier to create the look using a regular pointed brush. I still give the kit a few points because the shadow colors are nice, but I wouldn't purchase it for anyone else.

Love the eye shadow

The eye shadows are really nice it brings out the green in my hazel eyes. The brush is a little tricky to use. I actually don't use it at all.
Back
to top