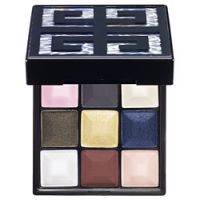 Givenchy Prismissime Eyes
As low as
A Fool and Her Money . . .

Eye shadows. I simply cannot get enough. There is a huge professional train case on my vanity, two under my vanity, and a third in a room we call our office (for now, we won't discuss the cases and containers in the game room). The majority of products in them are eye shadows. I know not to use an open shadow that is more than a few months old because of the possibility of bacterial contaminat...read moreion, but I still can't find it in my soft, makeup-loving heart to throw them out. I am palette-obsessed and will probably grow old still searching for the penultimate collection to outdo them all. I thought I had come close last year when Givenchy offered a limited edition of its "Prismissime Eyes" in a range of golds, bronzes, velvety matte browns, and browns dotted with gold. It was luxe, shimmery, and decadent. It was spectacular. It was breathtaking. It was unlike any other palette I had ever seen. I spent the first day after purchasing it just staring at the colors. Then I prepped my eyes with Too Faced's "Shadow Insurance" and was ready to emerge more stunning than Jennifer Lopez, Halle Berry, and Beyonce put together. It never happened. I should have shoved the amount I paid--more than $60.00!--right down the drain (shame on me for spending so much, I know, but it was Christmas and I tend to become a little giddy around then). I have never, ever used a shadow that was more rigid. I tried my makeup brushes and then the enclosed foam applicator, but the pigment barely came off the alluring blocks. Was I delusional? This product was from Givenchy and couldn't possibly be so disappointing. I tried again the next day. The only way I finally was able to shadow my eyes was by using the tips of sanitized metal nail files to scrape the colors into little piles and apply that way. Even then, they were lacking in pigment and simply dull. Boring and lackluster. I don't know if the day will ever come when I will indulge in Givenchy's shadows again (I did during college and was pleased--they must have changed the formulation). As the saying goes, I won't throw good money after bad.

Lovely colors

I got this as a present and the colors are fantastic. I use all the colors to match whatever i'm wearing and I absolutely love it..great for all seasons because they give you light and dark colors.. It applies nicely, do not need to keep on applying just to see the color.
Back
to top