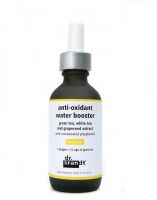 Hence the word Supplemt!

So I've been using this since 2009 and I love it, though the price is a little high for not having many vita's in it, but hellooo...it's a supplement booster why people think it'll replace their mulit's is beyond me...I live the green tea and can taste it too, and It's a quick way to get it into my daily routine if I don't have time to make and drink mu normal 7-8 cups a day. I have tried 4 boost...read moreer varieties and love them all..If you don't like the taste,you can mask it in juice, protein shake or other hot tea. I don't care for it alone unlessIdrink it as a hot tea.

Love this Water Booster!

I used to take green tea everyday in pill form, but noticed this and had to try it. I love it, it works better, gives me more energy and has improved the appearance of my skin. I have been using the pomegranate flavor (which I think tastes pretty good) for about 4 months now and think it is worth the price!

Convenient and reliable

I love drinking these drops in a bottle of water on a daily basis. They are sugar, calorie, and caffeine free and are the equivalent to drinking 30 cups of green tea in a serving. Excellent antioxidant benefits and all the flavors taste great. One bottle actually lasts me a little over 6 weeks drinking 2X daily. EDIT-- I meant to say 15 cups of green tea per serving!
Back
to top