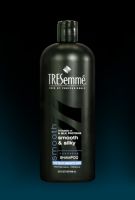 thick rich lather awesome body

i tried this one day after i had spent the night with a heavy layer of olive oil in my hair, as a deep treatment. i thought id have to shampoo a million times and i didnt want to waste all my $$$primo shampoo to do it. i only had to lather up once, this shampoo is soooo great, its thick and rich lather left my hair clean and light and smelling sooo good, and i have a ton of VAVAVOOM volume, so muc...read moreh that MY HUSBAND ASKED WHAT I DID TO MY HAIR, B/C IT LOOKS SO HOT!!! actual price of shampoo, 4$, comment on my hair, from my husband, PRICELESS!!

not for me

my hair never really flet clean

Not for me...

About three years ago, I tried this shampoo. At first I thought it must be doing a great job of cleansing my hair, since my drain would be clogged with hair after each shower. It took me a month to realize that my hair was getting drier and never stopped falling out! Maybe I was just an anomaly, to react so horribly to it, but this shampoo and conditioner destroyed my hair - it felt brittle and was full of split ends for over a year afterwards. This might work for some, just be careful!
Back
to top