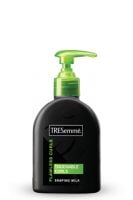 Made Hair VERY Dry & Sticky

My hair is very long, curly and it's in pretty good condition as I never heat style. I had read that hairstylists recommend styling creams/lotions for curly hair in the summer months and I thought I would try this product. Right from the begining I was highly disappointed. The texture is very watery for a milky lotion, felt sticky going on and ended up making my hair VERY dry. When I read the i...read morengredients, to my surprise, I noticed the product contains alcohol. Since its always recommended if you ahve curly hair to not use products containg alcohol, this surprised me. Needless to say, I returned it and its made me leary of using anything else from Tresemme.

Not my favorite.

Made my hair very soft but really frizzy in my opinion. Did not define curls

Long-time user

I love this stuff! I've been using it for several years, and it turns my dry, frizzy curls into soft ringlets. Of course it can get greasy if you use too much, just like any curl cream. I use it when my hair is still damp, but not dripping, and scrunch for a few seconds. Then go through the rest of the routine. By the time I'm in the car, all I need to do is tease it up a bit and separate any areas where the product is concentrated. The curls separate quickly, and stay bouncy and soft all day.
Back
to top