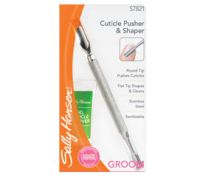 Sally Hansen Cuticle Pusher & Shaper
As low as
Cuticle

Not really an effective tool

Best on tootsies!

Does the job well on hands, but don't really need it there so much. Does wonders on those pesky toenail cuticles. Pair it up with a hot nail color and top coat after rinsing and forget about that overpriced pedicure. Nails look so much smoother and neater afterwards!

safe and affordable

Being a college student, affordable is key in making any purchase. I love the spoon pusher on the end of this tool because it doesn't scratch the nail or harm the nail bed when taking care of the cuticles. I use it with a dab of cuticle remover gel and it's a soft and safe way to give yourself a manicure.
Back
to top