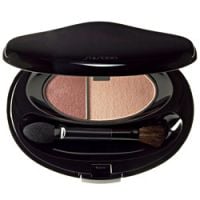 The bomb!!

I love the silky texture and the long lasting of these shadows. Shiseido is one of the greatest in the shadow area, but not for your walmart shopper though (lol). The applicator has brush on one end and sponge applicator at the other. This is one of the best applicators I have seen, and used!Love the color choices.

Great quality

I'm not sure if i'm crazy about color choice, but quality wise it's definetly great eyeshadow: easy for application, lasts all day and most important of all: it doesn't have this annoying shine like Dior's or Lancome's eyeshadows. Really great product if you love these colors. And the package gives you a sensation that you own something really precious.

Wonderful Shadow!

I love this eye shado duo so much (tafeta taupe is the one I wear most!)I have never gotten more compliments on my eyes that I have when I wear this. It goes on real smooth, and stays on all day! It is soft, and suptle. And it looks so pretty on! Though it is a little "costly," it is so worth the splurge! The only problem I have with it is that if you use it often, it really doesn't last that long, so it needs to be replaced more than a lot of other shadows.
Back
to top