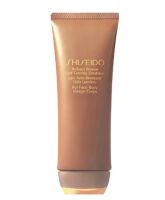 Shiseido Brilliant Bronze Self-Tanning Emulsion
As low as
works but stinks

this gives great color but the smell is dusgusting....i don't reccommend it, there are so many better products out there.

Works, but I have found a better product....

I used this for several years, but didn't think the color was exactly right. Also, I have sensitive skin and the product was a little irritating, but to have a tan I would put up with it. I now use Xen-Tan. You can find it at high-end department stores. I absolutely love it!!!! Color looks natural, applies evenly, smells good, and it is long lasting!!!!

Excellent self tanner for the face!

The tanning effect is residual and after only 2 consecutive days of use, I found that I had achieved a soft natural glow on the third consecutive day with nothing on! Do not let the sparkles startle you...there is no glimmer once you apply. It spreads evenly with no blotchiness. Apply this before or after your moisterizer, but definately BEFORE your sunscreen (if you use a separate sunscreen)or it may be difficult to distribute evenly or worse yet, pill.
Back
to top