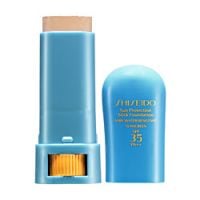 AMAZING!!!!

great sunblock, foundation & concealer in one! Just a few swipes & blend to even out skin tone. It gives nice coverage from sheer to full and you can layer this without it looking cakey. It's creamy, not drying but gives a dewy matte look that's also long lasting.

Attention golf ladies!!

My asian customers who golfed swore by this product. The only problem is that there is not much product in the stick so it becomes expensive to use as a foundation and it is hard to find in stock!I use it only on sensitive areas.

Great sport SPF

This SPF stick is ultra waterproof, sweatproof, and doesn't rub off. In fact, you have to get shiseido's oil based face cleanser to remove it completely (hint, use cleanser on dry face and the product comes off easily). I use this when I surf and the only part of me that never burns is my face, no matter how long I'm in the water. Note - your face will look like you have a ton of makeup on up clos...read moree (this is basically skin tinted zinc) but I promise it will protect your skin from the sun! Only caveat is that shiseido uses nanoparticles and this may have nanos. The jury is still out on whether nanos are harmful...