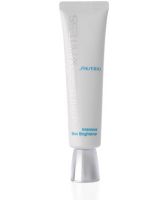 Shiseido Whitess W Intensive Skin Brightener
As low as
When is your next BIG event???

Got a big event coming up in a few months?? Then try this to even out your skin tone. Works well but if you are foolish enough to worship the sun stay away from this altar, that would be like beating a dead horse. Tis a bit pricey but works.

Love it!

Shiseido Whitess W Intensive Skin Brightener is awesome. Even though the recommended usage is twice a day with noticeable results after 2 or 3 months, my freckles had lightened noticeably after one month and I often only used it once a day (because I usually forgot). Had I used it twice a day, my freckles probably would have been way lighter than it had already been. Shiseido has another whitening...read more product in its White Lucent line and is $10 cheaper and so far seems to me very similar in its effectiveness.