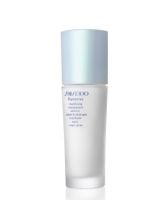 Pretty good, almost there but not quite

Here's the thing about this moisturizer- most people use it because they have oily skin (like I do), with the hopes that it will help to control shine and create a nice matte finish. This works well in the summer because it's a very light, almost watery lotion and soaks in really quickly. However, I wouldn't use it in the summer because there is no SPF. In terms of winter use, I wouldn't use it th...read moreen either because it isn't rich enough to treat those random dry patches you might get from the colder and dryer weather. But all of that aside, this moisturizer is pretty good. Feels fresh and light, but doesn't matify in the same way that Smashbox primer would or Clinique pore refining cream would. It's matte but still slightly...dewey? Does that make sense? Worth trying, but not on super dry skins.

Alright

I have combination skin, and this product worked pretty well on my t-zone. My cheeks on the other hand didn't get nearly enough moisture. I did like the mattifying effect of this cream, but overall it really wasn't worth the high price for my skin type. The scent is very light and pleasant, which was a definite bonus. I ended up returning the product, but I feel it would work nicely for someone with overall very oily skin.

kind of dry

I have a combination of oily in the T-zone area and the rest of my face is super dry, so this product isn't right for me. this product is just not moisturizing enough. so i wouldn't recommend this product to people with my kind of skin.
Back
to top