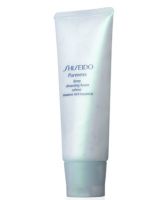 Amazing cleanser!

You have no idea how many times I've fallen asleep with my makeup on from the morning, only to wake up in the middle of the night in a greasy mess and the horror of potentially creating a breakout because of it. This cleanser is one of the best I've ever used because it cleans my skin so well, detoxifying and unclogging my pores, that I haven't had a breakout caused by sleeping with my makeup on. ...read moreThere is a correct way to use this cleanser. First and foremost, like all Shiseido cleansers, you must build a lather IN YOUR HANDS. You only need a pearl size amount of cleaner, and then keep adding water to increase the lather. When used properly it will give a lovely thick foam which will clean your skin very will. Do not put the cleanser on your Clarisonic brush head and expect the same results. Do not put the cleanser directly on your face and expect the same lather. If you do not build the lather in your hands, one, it will leave a film on your skin and for some people that can make your skin dry and itchy, and two, the little blue beads need enough water and stimulation so they can burst and make your skin feel cool and fresh. This is in no way an exfoliating cleanser despite the blue beads. If you can feel the blue beads on your face, you need to add a bit more water to your later. What I adore about this cleanser is how clean it makes my skin feel and look. I use eye makeup remover and a cleansing wipe to remove my makeup prior to washing my face and as soon as I'm finishing lathering up my face with this cleanser, it turns brown because it's finding more dirt and grime that I couldn't get off my skin. I love to use this with my Clarisonic (after properly lathering of course!). Like other reviewers mentioned, this cleanser in no way has any ingredients to actually kill bacteria and already-formed blemishes. This will keep your skin clean to prevent your pores from becoming clogged and forming blemishes, but it's not going to accelerate the removal of pimples you already have.

An Average Cleanser in a Tube

I love and hate this product for two specific reasons. I love this product because it cleanses well including makeup and oils but when it comes to the pitfall, it's the fragrance. Pureness is supposed to be a line that caters more the blemish prone, sensitive, and irritated skin and while this has a fragrance in it, it's certainly not bettering the condition of those allergic or reactive to frag...read morerance. It doesn't bother my skin too much but I do find that it has contributed to extending my cheek redness throughout the day. That's probably the fragrance factor. I'd choose a drugstore, gentle cleanser over this though in all honesty because I don't consider it to be an investment as it doesn't do anything specific to the skin other than serve as being gentle but even with the name of Pureness, I don't believe this is so.

Squeaky clean!

I have no doubt in my mind that this cleanser will catch all the impurities on your face!! You definitely need to moisturize right away because this cleanser leaves your skin feeling super tight.
Back
to top