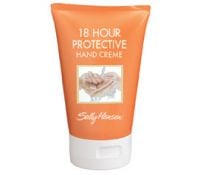 Great

I love this hand lotion and the scent is really good! Highly recommended.

Sally 18 Hour Protective Hand Creme

This REALLY works! I garden and occasionally don't take the time to put on gloves...I purchased this two weeks ago and have been using it twice a day to rehab my hands. Got the last tube with a 50% more fee (nice deal!) and very good price without the bonus, $5.97 at a well known starts with "K" store...The shea butter, vitamins A,E,C and grape seed oil are working their magic for me. ...read moreThe orange tube sits on my counter near the kitchen sink to remind me to apply after cooking, doing dishes and after that first cup of coffee! Highly recommended...I've also rubbed it on my heels after a shower; great stuff and lives up to it's 18 hour title.

Great Aroma, Greasy Feel

After applying this product I feel a film on my hands for about an hour or so, then I need to apply a lotion. It certainly does not live up to it's 18 hour claim.
Back
to top