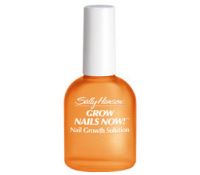 Sally Hansen Grow Nails Now! Nail Growth Solution
As low as
Really Does Work

After using this product for 2 weeks I feel that I can give a pretty accurate review on it because I have actually seen results. A little background on my nails: they typically grow out to about 1/2 of a centimeter, then quickly break or become so brittle that I have to cut them. Well I bought this product right when my nails had reached the 1/2 centimeter growth/length. The instructions on the ...read moreproduct are to apply 1 to 2 coats on freshly cleaned nails every day, now keep in mind removing nail polish is something I hate doing, so rather than removing the polish every single day and applying a new coat every day, I just kept applying coats of this polish on my already coated nails. Will you achieve different and possibly better results if you follow the instructions? Probably, however I've been satisfied with how my nails have been looking (even if I haven't been too strict on the instructions). My nails haven't grown drastically since applying this treatment so I don't agree with the "maximum growth" claim, however I do feel that it has made a difference in my nails and here are the results (after 2 weeks of use): - Nails are now very strong and hard - Nails are no longer brittle - None have cracked or broken since using this treatment. - Nails are whiter and feel smoother. - Even when I don't have this product on, my nails still feel strong and healthy. Sally Hansen carries a ton of nail growth and nail strengtheners which you can find on their site, many with different vitamins and different ingredients that may ultimately give you different results. If you want to purchase the same one I did, you can visit your local Big Lots, or you can also find it at your local Ulta, CVS, Walgreen's, and online.

Awful!

This does not work at all. I used it for a week or so and nothing happened. Don't waist your money on it!

DO NOT BUY!

THIS STUFF DOESN'T WORK AND I RECOMEND THE NAILGROWTH MIRACLE!
Back
to top