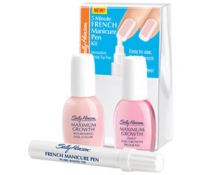 Just Used The Pen ~ Pretty Cool!

This is a total hit or miss, depending on the user's sense of patience. I'm totally new to French Manicures and just found out how to do them at home because of a few really good tutorials on YouTube. I've realized that to get a good French Manicure that's clean and pretty, it's going to take some time ~ using a pen or brush. I just bought the pen yesterday to see how it worked. This stuff is a ta...read mored runny, but I just pushed it lightly onto a piece of paper to get rid of the initial "flood" of product and then did a swipe on my tips. I'm finding that if you do keep a bit more product on the tip, the application comes out much nicer and smoother. If you apply it without enough product, it leaves streaks. I'm very patient and not worried about mistakes though ~ I just wiped it off and redid it until I was happy. This stuff comes off SUPER EASY in seconds and DRIES SUPER FAST....so mistakes are easily remedied. I love the idea of a pen and the ease of use instead of having to drag out the brush, the polish remover and waiting forever between coats and then cleaning up the line, etc. This is just a couple swipes and it dries in no time. Works for me! I probably will do some clean up on my left hand (always problematic for me), but other than that, it looks pretty good. I'm happy!

Produces great results

If you spend the time to sit down and do this right, it looks great. That being said, precious few of us HAVE that time. It's a trade-off, it's definitely cheaper than getting a professional manicure done, but it does take much more time, and of course doesn't look as perfect as a salon-job. I bought it last year and have used it two or three times when I'm in the mood to pamper myself a bit, and that's the fun part for me.

Keep Trying Sally Hansen

The pen is no easier than brushing it on. The liquid in the pen was runny. After several botched attempts, I gave up. Back to the drawing board, Sally Hansen!
Back
to top