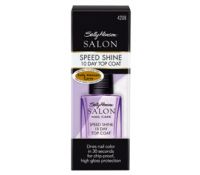 Sally Hansen Salon Speed Shine 10 Day Top Coat
As low as
Fantastic!

This is a truly amazing product! I've started using it a while back, it was in a slightly different package then, and I'm still totally in love with it. It really helps to do my manicure faster and to make it look nicer. I always use base, then 2 layers of nail polish, and all that would normally take quite some time to dry, but with top speed shine the drying process is no longer painfully long. ...read moreAnd as a bonus it really helps my manicure last longer and loon nice , glossy and fresh all week. Another great thing about it is that unlike other fast-drying polishes, it doesn't feel like it's drying out my nails or is about to chip. Really great and affordable product. I highly recommend it!

Wow!

This stuff really dries FAST. After one minute your nail polish is hardened and there's little chance of any mess-up. No more sitting around for an hour waiting for your nails to dry. It gives a really nice shiny finish also. The downside is that my nails still chip fast (they last 3 days tops), but considering the time & effort put into my home manicures is so much less, I can't complain. It's definitely worth it & I will buy it again.

So Cool!

This is great. Before I found this, my nailpolish would chip off in about one or two days. I put three coats of polish on and then two minutes later I brushed this stuff on and my nails were completely dry in one minute! And my color is still on after one day. We will see how long it really lasts.
Back
to top