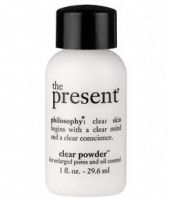 No Present

Where is the present in this? It did absolutely nothing for me.

Especially for oiler skin

I love this product in the summer, when my 50-year-old skin is still oily.

Good...But...

This product works pretty well, I no longer wear makeup so I stopped using it for a while. It sat in my purse...and I'm not sure if i never noticed how it smelled...but it smells like elmer's glue...not very pleasant.
Back
to top