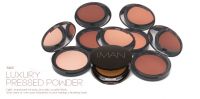 Iman Luxury Pressed Powder
As low as
The best color for me

I have never found a powder that was exactly the colour of my skin. Until now it is perfect. Clay medium

Earth Dark - Pressed Powder

As far as color ranges go for darker skin tones, I'd have to say Iman has one of the most accurate/large collections. Now the reason I include Accurate is due to the fact the products are not just yellow-based, but they are golde/olive/peach based products.. all blending into the base of your skin to be almost unnoticeable.. Now being a darker skinned woman, i KNOW how difficult it is to fin...read mored the foundation you need to match your skin, and to give the benefit of the doubt, darker skin has a lot more undertones and colors than any other skin tone, so it is going to be harder to accomodate a range of darker skin tones.. But you'd think since Black Women in America alone spend the most on beauty products you'd find better lines of product out there from all brands . . .;) FoodFor Thought! Anyways, on to the Earth Dark Pressed powder... The first thing I noticed was how much coverage it gave.. The powder which I apply with a Goat Hair Kabuki Brush is easy to swipe on and has a light feeling while providing medium - full coverage. Now I have acne prone skin, so i'm a little scared of foundations/powders that dont outline Non-comodegenic, to say the least, but I've been using this powder for about 6 months and It hasnt made be break out once! So here's a break down of my observations of Iman's Pressed Powder. Consistency : Light on skin.. didnt feel heavy and didnt clog my pores.. ( make sure you wash your brush/sponge weekly to avoid breakouts) Coverage - Medium to full ( actually works really well with a stipling brush to act as a semi-concealer.. brush all over your face first with Powder Brush and the stiple over any dark pigmented areas.. it does a great job!) Color Range: - pretty good amount of colors.. blend of undertones is just right (Including Golden/ Yellow Based) that creates a much more natural color .. some may have to blend other colors together to get their skin tone just right.. ( cant really be helped with mixed skin tones though) Pros - CHEAP.. and it lasts forever.. i've had mine for 6mnths.. i wont need another one for another 4 .. and i use makeup every day. ( mind you I use a brush which uses less product.. but still does the job) Also used it as a setting powder to avoid turning my lovely liquid foundations Ashy. Cons - Rubs off.. OK i do have to say i fount it on my shirts quite easily.. but what makeup dsnt rub off?? You could always use Model In A bottle to hold your makeup in place if going out for a night on the town.... oh and the case... slight pet peeve but her name "Iman" rubbed off the case shortly after getting it.... I kinda wanted everyone to know which brand I was using for this one!
Back
to top